Pre-Arranged Funeral Services
---
Most of us want to plan ahead for major life events, but when it comes to end-of-life planning, many have a difficult time pre-planning a funeral. Thousands of families are now choosing to pre-arrange their funerals in order to take the emotional stress off of their loved ones during an already difficult time. Pre-arranging a funeral doesn't have to be difficult. Our experienced team of funeral professionals at Nelson Family Mortuary is here to help you throughout the process, and answer any questions you may have regarding pre-planning your funeral
In this section of our website, we'll share with you why it's important to pre-arrange your funeral, how pre-planning a funeral works, and exactly what's involved. We've provided our handy pre-planning checklist to get you thinking about some of the decisions that you'll need to consider.l.
Pre-Arranged Funeral Services with Nelson Family Mortuary
If you're ready to get started with the process of pre-planning your funeral, our online funeral pre-planning tool lets you make important decisions in the comfort of your own home. Should you prefer to discuss your funeral pre-arrangement in person, we invite you to contact us by calling (801) 405-7444 at any time or emailing us to schedule a time for a funeral pre-planning consultation.
---
Funeral Pre-Planning in Provo
---
We've had the privilege of assisting many families with their funeral pre-planning. During the time we've spent with them, we've learned more about the reasons behind their decision to take funeral pre-planning seriously. Please feel free to take a look at our funeral pre-planning guide below to learn more.
---
Pre-planning my funeral was my way of showing my family just how much I love them.
---
In pre-paying for my funeral arrangements, I've lessened the financial burden on those people I leave behind.
---
I'm very independent and have always made all my own decisions.
---
Some say I like to be in control of everything and they're right!
---
This way my family knows exactly what I want. No one has to get angry or fight, and no one has to feel guilty about making the wrong decision. When I'm gone they will know what I want.
---
I remember when my mother died. None of us kids knew what to do and absolutely none of us knew what she wanted. No one bothered to ask! I'm just not going to wait for my kids to ask me what I want. I'm going to tell them.
---
I guess it's because I want things done my way. I want to provide my funeral pre-arrangements to our local funeral home to make sure I get what I want.
These are just a few of the comments we've heard during funeral pre-arrangements. Chances are pretty good that some of these statements are true for you as well.
Take care of all the funeral pre-arrangement details and give you and your family the peace-of-mind you deserve.
Why You Should Pre-Plan Your Funeral
Although it may be uncomfortable to acknowledge, death is a natural part of life. That's why it's important to start thinking about funeral pre-planning and ensuring your final wishes are recorded and prepared for. Funeral pre-planning is something that everyone should consider, no matter your age. If not for your own peace-of-mind, then for the well-being of those you will leave behind.
When a loved one passes away without pre-planning their funeral, the surviving family is left to make all of the arrangements in a limited window of time. By taking the time to start thinking about final wishes and pre-planning your funeral service now, you can make sure your family knows how you want to be honored.
If you are still unsure about funeral pre-planning, here are four more reasons to consider it:
Communicate your wishes
By pre-planning your funeral service, you can make sure your family understands your final wishes and what you would like the service to include.
Prevent your family from facing the final responsibility
Funeral pre-planning allows you to relieve your family of any financial burdens. You have the option to pre-pay the total cost of the service in a one-time payment upon completing the arrangements or by paying the total cost over monthly installments.
Relieve family of stress in the days right after your passing
Rather than stressing over making the funeral arrangements in the days after your passing, your family can instead spend time comforting one another and preparing to say goodbye.
Save money
Like any product or service, over time it's natural for prices to rise due to inflation. By pre-planning your funeral service now, you can pay for the service ahead of time. This ensures that when it's time for your service, your family won't have to pay more than if you pre-planned beforehand.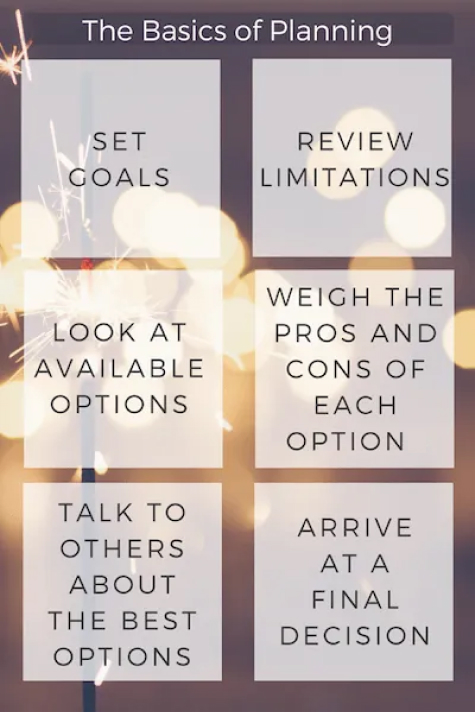 In the case of
funeral pre-arrangement
, another two important steps are involved:
Write out your plan with as many details as possible.
Send your plan to the funeral home and provide a copy to your executor.
The Benefits of Funeral Pre-Planning in Provo or Orem
When you choose to pre-plan your funeral service, both you and your family stand to benefit. Some of these benefits include:
Decide how you want to be remembered
Funeral pre-planning is all about deciding how you want to be remembered. It allows you to select the type of service you want, and how you want guests to honor you. Funeral pre-planning puts you in complete control of your service. Whether you want a casual celebration of life or a more formal traditional funeral service, the choice is yours.
Allow your loved ones to focus on saying goodbye
Did you know that in the 24 hours following death, an immediate need family has to make up to 70 decisions regarding the service? By taking the time to pre-arrange now, you can relieve your family of these decisions. This means they can instead spend time comforting one another and preparing to say goodbye.
Empower your family
When a family is left to make funeral arrangements, it's natural for them to question whether they "got things right". When you pre-arrange a funeral, everyone benefits. Your family knows exactly how to honor you and you have peace-of-mind knowing everything is prepared for.
When Is the Best Time to Pre-Plan Your Funeral?
Honestly, the best time to pre-plan your funeral will be different for everyone. Some people struggle with this so it's best to first research the options available to you. We recommend speaking with your family members first and comparing the choices and options together.
Once you've looked at everything available, you can schedule a time to meet with the funeral home and begin making your pre-arrangements. By taking time now to collect cost information and calmly making choices related to your own funeral arrangements, you'll be protecting your family against the stress of having to make these decisions at a time of extreme emotional stress. This way you can carefully choose specific items you want and need.
Using the Online Pre Arrangement Process Tool
This website features Pre-Arrange Online, a step-by-step interactive form that can be used to record your end-of-life plan and send the completed form to our staff for safekeeping. You'll be asked to create an account with a username and password so you can login at any time to complete or change the plan.
If you're ready to begin funeral pre-planning, the first can be taken in the privacy of your own home by using our online funeral pre-planning tool, pre-arrange online.
Working With Nelson Family Mortuary
When you're ready to begin pre-planning a funeral in Provo or Orem, we would be honored to assist you. As a locally-owned funeral home, we have helped families from all different backgrounds honor their loved ones with dignity and respect. We strive to help families plan loving and memorable funeral services that are tailored to them. From the first call until long after the service has ended, our team will be here to provide the guidance and resources you need. With a staff comprised of caring and honest funeral professionals, we will make sure to discuss the different options available to help you make informed decisions. If you have any questions about funeral pre-planning or would like to begin the process of funeral pre-arrangement, please contact us today.
Funeral Pre-Planning Checklist
Planning a Funeral Checklist
We've put together this funeral pre-planning checklist to help you.
Download our pre-planning checklist here.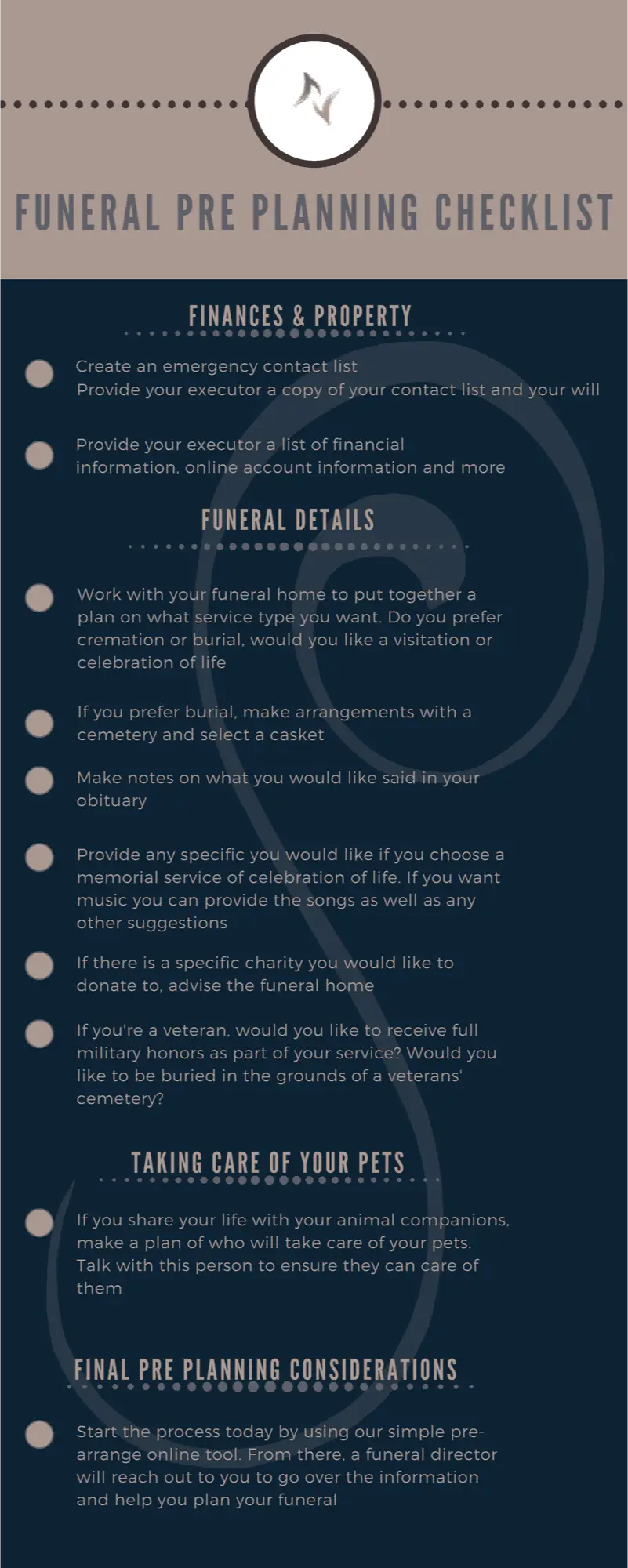 Taking Care of Finances and Property
Here is a list to get you started:
Create a contact list of everyone who should be notified in a medical emergency or death including the name of your funeral home.
Give your executor(s) a copy of your will and the contact list.
Give your executor(s) a list of bank and investment accounts, creditors, mortgage or lien information, insurance policies, retirement plans, safe deposit boxes, real and personal properties of value and all related telephone numbers.
If you are receiving benefits from Social Security or the Veterans' Administration, your executor needs that information to suspend benefit payments.
If you are receiving benefits from Social Security or the Veterans' Administration, your executor needs that information to suspend benefit payments.
Taking Care of Funeral-Related Details
We suggest the following:
Make note of all the details you want mentioned in your obituary. You could even take this one step further and write your own obituary.
State, in writing, your preferences for burial or cremation.
If burial is preferred, provide the details of the cemetery arrangements. If you have not purchased a burial plot, this is the time to do so.
If you have chosen burial, what type of casket would you like? Should it be made of wood, metal, or composite materials?
If you choose cremation, what do you want done with the ashes?
Would you like a traditional funeral, memorial service, or celebration-of-life?
If you'd like a celebration-of-life, what location would you suggest for this event?
What special activities would you prefer at a celebration-of-life?
What music or special readings would you prefer?
What type and colors of flowers would you prefer?
Would you like to select a charitable organization to receive donations in your name?
If you're a veteran, would you like to receive full military honors as part of your service? Would you like to be buried in the grounds of a veterans' cemetery?
Taking Care of Your Pets
If you share your life with animal companions, you should think about who you would like to take care of your pets. Consult with the person to see if this is something they are interested in doing for you and then write down your intentions and include all contact information. This should be signed and witnessed, and then given to your executor.
Final Tasks in Funeral Pre Planning
In addition to your will, the contact list, and the list of all your online account login details and related documents should be provided to your executor.
Finally, you may want to consider paying ahead of time for your funeral choices. Speak to us about how your pre-payment monies will be handled.
Before You Leave
You will have the peace-of-mind knowing all the details are written down and there can be no mistaking your wishes. If you need help - we're here for you. Call us today at (801) 405-7444.
Advance Directives
We spend a lot of time talking about the importance of living responsibly, which involves preparing for the realities of life. While we believe making the decisions involved in funeral pre-planning is one reflection of a responsible mindset, we also know the critical importance of completing an advance directive.
What is an Advance Directive?
Sometimes called advance care directives, these documents ensure that your wishes will be carried out in the future.
Defined as "a written statement of a person's wishes regarding medical treatment," advance directives, when properly signed and witnessed, will provide guidance for medical and health care decisions in the event the individual becomes incompetent and can no longer make such decisions.
---
Other Things to Know About Advance Directives
Advance directives are legal throughout the United States.
Governing laws vary so be sure to obtain an advance directive that complies with your state's laws.
You do not need an attorney to complete an advance directive.
If you reside in more than one state, you should complete an advance directive for each state where you spend a significant amount of time.
There are no time limitations on advance directives. A signed advance directive remains in force until a new one is completed.
Periodically review your advance directive to make sure it still reflects your desires. If it doesn't, don't try to amend it; simply complete a new one.
Paramedics and emergency medical technicians cannot recognize or honor a living will or medical power of attorney. They are obligated to do their best to stabilize the patient and get them to the hospital. When you are in the care of hospital personnel, your advance directive becomes valid.
---
What's Involved in Preparing an Advance Directive?
It requires thoughtful introspection and conversation with family members. The American Bar Association describes the process this way: "Good advance planning for health care decisions is, in reality, a continuing conversation about values, priorities, the meaning of one's life, and quality of life."
There are many resources available online to assist and guide you in writing your Advance Directive.
---
Where to Obtain an Advance Directive Form
It's fairly easy to get a copy of the advance care directive form for your state. Your local hospital is a reliable source, as federal law requires every hospital to not only provide information about advance directives to people in their service area, they are also required to share valuable information about the related laws in your state. Contact your local hospital to learn more. Your family physician may also have advance directive forms available for patients.
You will need to have the advance directive witnessed and notarized. If you do not have access to a notary, you can find one using either of the following websites:
Notary Rotary
American Society of Notaries
Once your advance directive is completed, signed, witnessed, and notarized, you may wish to upload a copy to your state's advance directive registry. This service allows healthcare providers quick access to your advance directive should they need it. Locate the advance directive registry for your state online or visit the website for the U.S. Living Will Registry.